Defy limits, Be More BMX!
**** I'm now taking bookings for my epic Ancient Rome themed events and school visits.  Download the leaflet below for more details!****
Told by a careers advisor that girls like me don't become writers, I like nothing more than encouraging others to follow their dreams and defy expectations. My fun interactive author talks and creative writing workshops are designed to build resilience and confidence and have inspired thousands of children to defy the limits others put on them and smash stereotypes.
A former lecturer in creative writing at Manchester Met University, outreach tutor for The Portico Library, and writer in residence at Writing on the Wall, I have extensive experience of delivering inspirational events and writing workshops to both children and adults. To get a feel for my events, check out this photostream of my #BeMoreBMX assembly at St Oswald's. I can't bring a BMXer – St Oswald's were lucky enough to have their own – but I do promise flying teabags, bouncing eyeballs and lots of empowering fun!
All author visits and creative writing workshops include follow-up resources and you'll also be provided with a Princess BMX teacher guide to support your creative writing and reading for pleasure. Contact me to discuss your needs or choose from one of the sample workshops below.
---

Marie is such an outstanding writer and practitioner who is passionate about sharing her creativity with pupils of all ages, backgrounds and abilities, including those who have EAL and SEN. Feedback from teachers and pupils has been overwhelmingly positive and is a testimony to Marie's ability to engage and inspire the next generation of creative writers.
Claudia Conerney, Schools Liaison Coordinator, MMU.



MY MOST POPULAR EVENTS FOR KS2
BE MORE BMX – Core Presentation – 45 minute assembly plus Q and A and opportunity for book signing
With reference to my own childhood and the limitations others attempted to place on me because of my background, I explore why I wrote a book about BMX and how adopting an extreme sports mindset can help us achieve our ambitions and defy expectations. A fun, interactive, stereotype-smashing presentation that can be tailored for different audiences. Expect flying teabags, jaw-dropping BMX video clips and lots of laughs as we explore themes of resilience, empowerment and teamwork.
KS2 Creative Writing Workshop – Princess BMX Character Mash (45-60 mins)
With reference to the stereotype smashing characters in Princess BMX, and using a Top Trumps style format, children will create their own unique characters. After illustrating their character, they'll highlight their unique traits and qualities and give them a problem – the key driver of any character-led story – before sending them off on their own adventure. Can be adapted to also cover story arc and plot development.
KS2 Creative Writing Workshop – Through the Portal (45-60 mins)
With an emphasis on descriptive writing, children will be challenged to travel through the portal and create their own fantasy world. We'll start by discussing the classic building blocks of a portal story, then inspired by classic fantasy worlds the Kingdom of Biscotti, pupils will step through the portal and map out their own fantasy world before writing a story opening, describing the geography, animals and magical creatures that inhabit the world they've created. For older year groups, the workshop can be adapted to include the classic elements of a fairy tale plot, with participants leaving with a plotting tool to further develop their story.
Book Cover Design Workshop – Years 5-7
Focusing on book covers, this workshop offers a different approach to exploring text. The session starts by taking a look at the jacket design of some recent publications, with Marie sharing exclusive author and illustrator insight into these covers and the process of book jacket design. The children will then design a book cover for a novel of their choice. With particular emphasis on how their cover relates to plot and themes, they'll then write a short reflective piece about their design. If preferred, younger children can write a book blurb or short synopsis instead.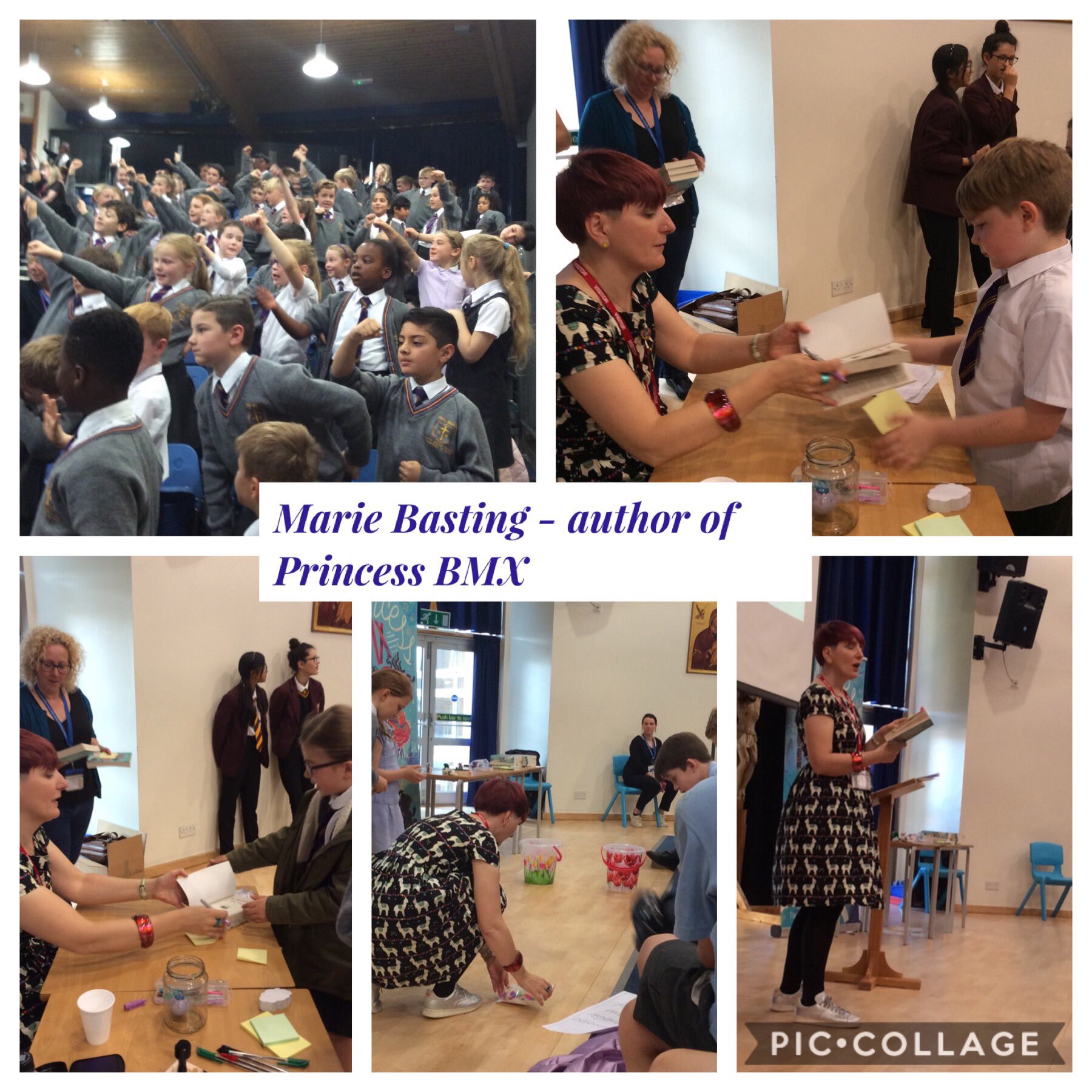 VIRTUAL VISITS

Most of my events can also be delivered virtually. You'll find more details here.



Marie, Thank you so much for today's virtual assembly. We LOVED it! The inspirational advice, breathtaking videos, fun quiz…the list goes on. We are all going to try and #BeMoreBMX
Faye Cooper, Adlingnton Primary



CREATIVE WRITING ENRICHMENT FOR KS3 AND ABOVE
In 2017, working under the direction of the Director Manchester Children's Book Festival, I set up and managed Manchester Mets first ever Writing and Talking Saturday Club, a creative writing enrichment programme for young writers aged 13-16. I have also delivered a range of secondary school-based creative writing outreach for both the University and the Portico Library. Please contact me for further details of my workshops offer.

It was the ideal balance of learning activities and confidence building. The pupils felt that spending the morning with you had been a 'treat'. It was a welcome change from the usual classroom setting and helped the disadvantaged cohort develop their literacy skills. To the pupils, it felt like special treatment, in the most positive sense.

Jane Hesketh, Audenshaw Secondary School
CONFERENCES BOOKSHOPS AND FESTIVALS
I have chaired or participated in a wide range of literary festivals and conferences, including the Manchester Children's Book Festival, Liverpool Festival of Reading and Aye Write Festival.
As an Associate Lecturer at MMU, I taught creative writing students from foundation up to and including MFA level as well as delivering a range of secondary outreach.
The workshops listed in the section above can be adapted for a range of settings and the assembly presentation also makes an excellent festival event. For adult audiences, I offer an alternative #BeMoreBMX presentation which has a greater emphasis on my writing journey, explores the similarities between the writing and extreme sporting mindset and offers tips for developing resilience and staying the course. I also offer an extensive range of adult workshops. Please contact me for further details.

Just when I thought she'd shown us everything, this year Marie took to the MCBF performance space at the Bigger Book Bash and engaged children in stories of Princess BMX, complete with party games, flying tea bags, bouncing eyeballs and unicorn hobby horses. Completely bonkers but a consummate professional, not a bad mix in my book.

Kaye Tew Director of the Manchester Children's Book Festival
---
Booking and Fees
For booking enquiries and information on fees, please use the contact form here or e-mail riewriting@gmail.com.

My author visits are competitively priced and include a free book signing. I am currently offering a 10 percent discount to schools in Gtr Manchester, Cheshire, the Wirral or the Liverpool City Region. (Full and half-day visits only. Not including World Book Week.)


How Might The Visit Look?
FULL DAY – would typically include, ​#BeMoreBMX assembly, up to 3 class workshops and a book signing.
​​HALF DAY – ​​#BeMoreBMX assembly, 1 class workshop and a book signing.
ONE HOUR SESSION ​​- #BeMoreBMX assembly or workshop of your choice plus book signing.
---
Endorsements
---
"It was brilliant and I would highly recommend it to all schools. Marie is fabulous!"
Tami Wylie, Teacher, Holy Cross Primary School, Oldham

Excellent communication from the very start. We met up in Manchester and Marie took great care to ensure that the workshops were relevant, inclusive, inspiring. Delivered with an excellent mix of input and then activities to ensure children maintained interest. […]The event was exciting, creative and successful in engaging the children, in a new way, to be writers. The volunteers from Friends of Marsden Library, the benefactor , Imbolc and our local councillor were all agreed that this had been a great event. One that the children will remember.
Sheila Bates, Friends of Marsden Library / Imbolc Festival

I enjoyed every minute!!! I was really scared of the creative writing aspect but the tutor was so helpful. The whole afternoon was so refrshing!
Adult Partcipant Manchester Histories Festival Workshop

We were thrilled to be visited today by @riewriting who shared her book, Princess BMX, with us and led marvellous workshops on creating characters which challenge stereotypes. She left us with a clear message to be more BMX -be resilient and believe in ourselves! Thank you Marie!
Christ Church Primary, Birkenhead

I've worked with Marie in a number of ways over the years I've known her. She is always positive and easy to work with and her events are always well organised and lots of fun. In her role as ARA at SCBWI, we partnered on events and projects aimed at supporting the adult writing community, helping us to broaden our festival offer. When I was asked to set up the first Manchester Writing & Talking Saturday Club, I knew Marie would be the perfect person to help. I'd seen her deliver workshops with school groups before and knew she would be the perfect person to inspire our young writers.
Kaye Tew Director of the Manchester Children's Book Festival

Fabulous school visit by Marie Basting talking about her book Princess BMX as part of Chorlton Book Festival. Year 5 students from Chorlton Park School loved playing games with Aunt Madge's spare eyeball and pet Tyson the Teabag, plus learning to be more BMX! Sharing her own stories, inspiring everyone, that they can be whatever they aspire to be @riewriting
Ruth Estevez, Chorlton Book Festival
---
**** Coming soon, Ancient Rome themed events and workshops linked to my second Middle Grade novel My Family and Other Romans. Download the PDF below for more details!****